Dr. Sheri Sime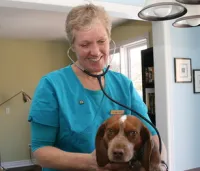 Dr. Sime has spent over 30 years as a small animal veterinarian. During her career she has owned and managed several practices, including a local housecall practice. She was fortunate to purchase Gorham Animal Hospital in 2013. The practice stresses client education and having families play an active role in decisions for their pet's health.
Dr. Sime shares her home with her two sons, and her cats Kon and Gracie. The past year has been very difficult for many families, including hers. Dr. Sime recently lost her beautiful beagle, Zelda to cancer. Many have seen her at the clinic, notorious for stealing staff lunches. She is missed. Finnegan, one of her cats was also lost to cardiac disease. They are dearly missed.
Dr. Sime plays in a local senior womens recreational hockey league and has recently tried curling and sailing.
Dr. Danielle Jongkind

Dr. Danielle Jongkind worked alongside Dr. Sime for a number of years and is at the clinic part-time, allowing us to extend our hours on Thursday nights for your convenience. She devotes time towards educating clients on preventative medicine, and in ensuring that our clients make informed decisions with their pets. In her free time she loves to garden and dance. She shares her home with her husband, 2 children, her cat, Eve, and two guinea pigs named Morgan and Maya.