Registered Veterinary Technicians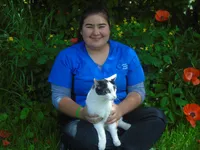 Mikayla RVT
Mikayla is a graduate of the Seneca Veterinary Technician program, always with a smile to share. Her family always seems to find room for yet another pet; dogs; Nita, Quinn, Abbey and the new puppy Xander, and a bunny; Oliver. Mikayla is an outdoorsy lady, especially enjoying her time up north.
---
Receptionist
Julie
Joined our team with previous experience within the profession. Julie and her family enjoy their outdoors up north. They share their home with fuzzy feline companions Ebony, Ace and Bandit and her dogs Chico and Duke. Julie has great compassion, empathy for our clients and has been a great addition.
---
Reception/Animal Care/Kennel, okay a lot of different shoes
Jacob
Started with us as a co op student. His calm demeaner and gentle manner help our patients, especially during COVID when their parents are outdoors, or just beyond the window. He usually has a few treats in his pockets. O'Malley has found a loving home with Jacob and his family.


---
O'Malley
O'Malley our lucky cat has made Jacob's home his forever home. This character has learned to close the doors on his family to pointedly show who is really the boss.

---
Lindsay

Also started with us as a co op student. She quickly impressed us with her empathy, compassion and hard working attitude. We have been fortunate to have her with us, and can see she will make a great addition to the veterinary profession in the future. Pounce her cat and Kippy her dog help keep her on her toes. Lindsay has started doing her undergraduate studies at Guelph University and will be around during her holidays.
---
---
Co-op Students

We currently have a high school student with us.