The responsibility of pet ownership encompasses our devotion, love and commitment to ensure that our pets are protected and cared for in every way. Unfortunately the time may come when a pet becomes sick and when their quality of life dictates that out of love, we must act on their behalf. Euthanasia, is our last act of love, putting their needs above our own. Even when it is the right decision, it is never easy.
We are often asked when is the right time, or how to know when a pet's quality of life is compromised. Some animals experience good and bad days which makes this assessment even more challenging. It may help to ask yourself is your pet still doing the things that they have always enjoyed? You can also rate their quality of life on a scale of 0-10 over the last few weeks. There is no one who knows a pet better than their own loving family.

It is also important to factor in concurrent illnesses or conditions. If these are manageable, with treatment, their quality of life can be improved. Health status and quality of life should be considered when making a euthanasia decision, not age. Please call us should you require advice from one of our veterinarians: Dr. Sheri Sime, Dr. Nicole Srebot or Dr. Danielle Jongkind.
It can be difficult to make a euthanasia decision when we are attached to our pets. The Association for Pet Loss and Bereavement website has a quality of life scale to assist in making this difficult decision.
The loss of a family member can leave us overwhelmed and the need for support is both understandable and expected. There are a number of helpful resources for your family:
The Association for Pet Loss and Bereavement.
The pet loss support line is available through the Ontario Veterinary College at (519) 824-4120 ext. 53694 (Tues.-Thurs. 6:00-9:00 p.m.), and is manned by volunteer veterinary students under the guidance of a qualified grief councilor.
The Loss of a Pet, by Wallace Sife, PhD is also a helpful resource for those individuals in deep mourning for their pets.
Gorham Animal Hospital offers house call services for the humane euthanasia of pets in the comfort and privacy of their home. If this is an option that you wish to consider, please call the clinic at 905 895-4552.
Once your family has made the difficult decision to humanely euthanize a pet, several decisions need to be made. You need to decide when, where (at home or at the clinic), and which family members wish to be present. You should also decide on what aftercare you would like for your pet.
We use the services of Gateway Pet Memorial Services for aftercare. Gateway provides cremation and burial services. Many people want their pet cremated but some go one step farther and would like the ashes returned in an urn. Gateway also manages a pet cemetery and you can find more information about this on their website. If you have a property where the municipality allows it, you can also take your pet home to be buried.
Children and Pet Loss
The loss of a pet may be a child's first experience with death. Be honest with children. They should be included when a family member is ill and dying. They need a chance both to participate in discussions about their pet as well as having a chance to say good-bye.
Talk about the need to help a pet die peacefully, rather than describing euthanasia as putting the pet to sleep. Otherwise, children might confuse euthanasia with going to bed to sleep. reassure them that is OK to be sad, express their feelings and their grief. It is also important that they understand that they have not caused the death of their pet.
Include children while making paw prints, having them place their pet's name on the clay. Fond memories, and photos can be included in memory frames alongside those paw prints.
What to expect...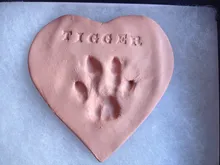 Upon arrival and after signing the necessary paperwork, the veterinarian will usually administer a sedative injection. This is done to make sure the pet is comfortable and is not anxious. It also gives you some quiet time to spend with your pet.
The sedation takes 10 - 20 minutes to take effect. Once you and your pet are ready, a needle or catheter is inserted into a vein and an overdose of an anesthetic is administered. It takes 60 seconds or less for the pet to lose consciousness with this injection and less than 2 minutes for the heart to stop. For the pet we imagine it is much like a person being put under anesthetic. The doctor asks you to count backward from 10 and you never make it past 7 before everything just goes black. It is a very comfortable and humane process. The pet can be placed comfortably on the floor, the table, or in your arms for the second injection. The pet's eyes will stay open, and they may have a urine or bowel movement. The veterinarian will examine reflexes and listen to their heart to ensure that your pet is truly gone.
We routinely make a complimentary clay paw print for family members and handle all of the aftercare arrangements for you. If private cremation is requested, your pet's ashes will be returned to the clinic within 7-10 working days. Our staff will contact you when they return. A ceramic urn or cedar box is included with private cremations and can be engraved with a pet's name if you wish Additional text, including dates can be requested for an additional fee. Please view the Gateway Pet Memorial website for the many other beautiful options they offer.

If you have any questions about end of life care for your pet, please feel free to call us at:

Gorham Animal Hospital (905) 895-4552